Peter Cottontail's Drive-Thru EGGstravaganza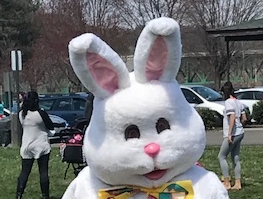 Drive-Thru Map
On Saturday, April 3, Peter Cottontail held his first ever Drive-thru EGGstravaganza at Unity Park in Turners. The Drive-thru consisted of vehicles driving through the parking lot and having volunteers hand goodie bags of toy and candy-filled plastic eggs to children ages 3 and up. Maintaining proper social distance guidelines, children were able to waive to Peter on their way out. A few dozen vehicles drove through the park, and the event proved to be a big hit.
The Drive-thru would not have been possible without the assistance of Chief Chris Williams of the Montague Police Dept. and his officers for traffic control, Jay Fritz, Linda Ackerman, Kelly Trinque, Haleigh Greene, Sarah Hanley, Abby Holloway, Gabby Weeden, Stephanie Peterson, Kasia Dobosz, and Kyleigh Dobosz. This was truly a team effort, and we couldn't be more fortunate to have received their help.
We would also be remiss if we didn't acknowledge Peter Cottontail, himself! Everyone appreciates Mr. Cottontail for setting aside time from his busy schedule to attend and greet the children.
We look forward to returning to our traditional egg hunt next year, and hope everyone stays safe and healthy throughout the year.
Sincerely,
Jen Peterson
Jen Peterson, Clerk
Jon Dobosz
Jon Dobosz, Director
Montague Parks & Recreation Dept.